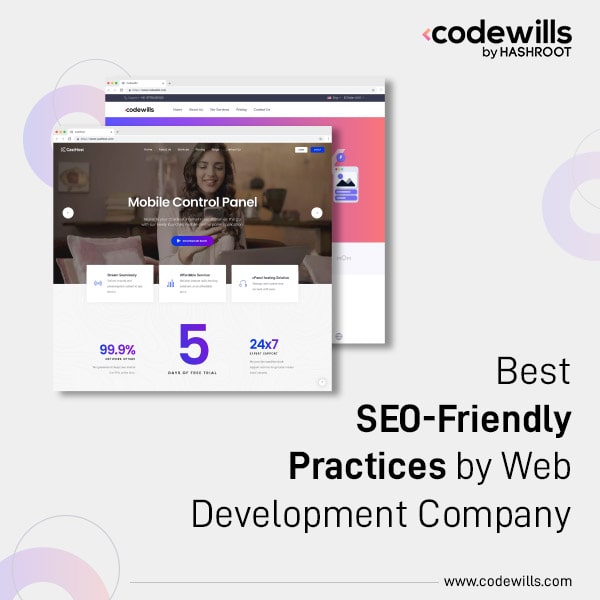 Making your business more successful by utilizing the internet is a great idea. Many people assume that when they have a website, they will have an online presence, and that's where they're wrong. The majority of consumers use Google and other search engines to find products and services. They can only view your website in the search results if it is indexed, crawled and superior in content. Here is where the power of Search Engine Optimization (SEO) comes into play, and it all starts with your website.
Consulting best website development company can ensure to deliver such SEO-friendly websites that bring quality traffic from search engines. With potential content and implementing basic SEO practices can gain long term benefits from the developed websites.
So, let's look into the best website development practices adopted by most trusted website development company in India that ensure developed websites are SEO-friendly and favorable to the search engines to crawl.
SEO-Friendly Web Development Practices
1, Content Optimization Targeting Valuable Keywords
Keywords are the phrases that tell search engines what all the content is about on a web page. Research and collect the relevant and potential keywords for each web page and develop qualitatively optimized content with appropriate and distinct keyword sets. Content is King of the SEO. Most quality, updated and fresh contents are always dominant in the SERP. Website development companies seek the help of SEO content writers to develop quality content relevant to the product or service topic.
2, URL Optimization
The URL structure is a top responsibility and must be well-versed, easily identifiable, and follow Google's criteria. Make each Webpage URL simple, distinct and use the content target keywords. Some companies use random numbers or alphanumeric URLs for web pages that are not useful for target keyword visibility in search engines. So based on the content of the page, an optimized keyword has to be employed for a web page URL for better keyword visibility results in SERP.
3, Create XML Sitemap
It is one of the elements that Google values highly. This aids search engines in determining the structure of a website and, as a result, what pages are much more essential and how much you can benefit from them. XML Sitemap generally consists of all the website URLs needed to be indexed and crawled by the search engine bots. Giving the XML sitemap helps to speed the crawling by the search engine bots and thus gets indexed in search engine results.
4, Create a Mobile-friendly website
Today people browse websites on desktop computers, smartphones and tablets. So making your website flexible for all devices is essential. It also ensures excellent user convenience, which search engines appreciate. Websites developed to adjust to users' mobile devices improves the mobile user experience accessing the websites. Mobile-friendly websites are compatible and widely accepted by search engine algorithms to rank higher in SERP.
5, Image optimization
Images with large sizes slow down the loading speed of Web pages. Website page loading delays due to larger image size increases the bounce rate. Page loading delays also affect the ranking of web pages in search engines as search algorithm promotes better performance pages rather than slow responding pages. Web development companies here practice image optimization with compressed images and use optimized image formats in web pages. For image search visibility, image filename optimization done with an ALT name that contains the target keyword of the corresponding web page is applied. SEO-friendly custom website design services in India helps to design websites that are optimized for performance, compatibility and mobile-friendliness.
6, Internal Linking
Google and other search engines crawl all the web pages by navigating through the internal links. Furthermore,The search engine bots crawl pages in the website with internal links given as keyword hyperlinks within the pages or as menu items. Internal links within the website pages also improve the user navigations and convenience.
7, Header Tags Optimization
When it comes to ranking a page, Google and other search engines want to know what page content is about and how valuable it concerns the search query. As a result, using optimized header tags with suitable and proper keywords will be more beneficial.
8, Meta tag optimization
Meta title and description specific to content page keywords help to improve visibility in search engines. Optimized keywords and targeting locations here can benefit improved visibility. Furthermore, Meta tags are basic information of a web page that informs the search engine what they may find on that link.
9, Use Robots.txt
Implementing robots.txt with codes prevent access of the search engine to index non-relevant pages or duplicate pages. Robots.txt tell search engines crawlers what to index and what not to index on a website.
10. Page speed optimization
The quicker the webpage loads, the better usability it provides and the more valuable it seems to a search engine. Furthermore, Website development companies optimize images, other content types, and all factors that lead to a faster page load for mobile and desktop.
A business identity is represented to the search engines with a website. And it is critical that you create it in the best possible way, in accordance with SEO rules and characteristics. And while SEO isn't a one-time event, one should collaborate with the reputable best digital marketing services in India or SEO-friendly custom website development service in India to keep your digital strategy on track. Using the Best SEO practices web application development services in India can also be targeted to the potential online consumers, searching for their desired products or services.