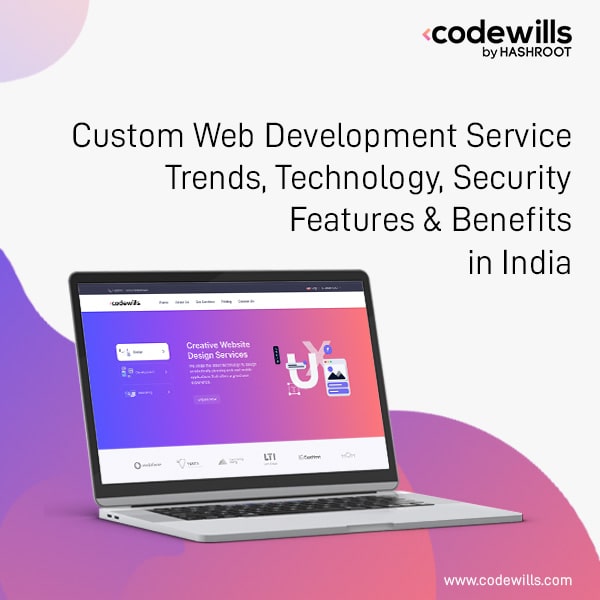 Web development trends change faster with emerging technologies, methodologies and research practices. It is critical to pay attention to emerging trends, techniques and approaches in advanced custom website development to dominate the web development industry. Based on business demands and requirements, custom web development services provided by web development companies play a vital role in boosting online presence. Customization of web platforms according to the business standards and needs improves the overall quality factor. The intense competition in the web development industry has led to the evolution of web trends that aid in quality web development. With in-depth knowledge and practice, web developers create milestones in custom web development services in India. Let's dive into details of various custom web development trends in India adopted by web development companies.
Custom Web Development Service Trends with Modern Features in India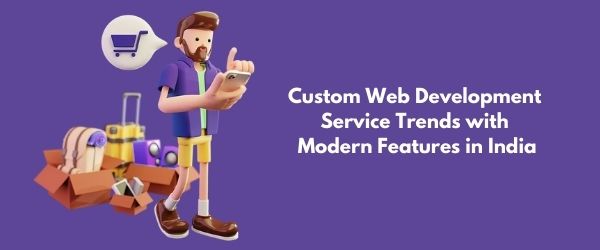 1, Web Content Customization with Machine Learning(AI)
Machine learning is becoming a significant part of any web service. Machine learning refers to the capability of software to improve results without direct human input. The Machine learning software processes incoming data, detects patterns, makes decisions and improves output results. ML analyze the behaviour of website visitors and make changes to the content. Netflix Machine learning algorithms provide Content and search results based on user intentions instead of previous queries. Using machine learning, Airbnb, for example, can customize search results for guests so they will be more likely to be accepted by hosts. Natural language and image recognition can help to improve the user experience. The computer can interpret data and make rational decisions thanks to machine perception.
2, Voice Search based Custom Web Feature
We are witnessing a significant online search strategy with the voice search trend. Every smartphone already has a digital voice assistant (Siri for iPhones, Google Assistant for Android-based phones). Moreover, Children and elders can interact with voice interface features through the web to get information with simple voice commands from smartphones or content reading voice assistants. The Medium website started such a voice feature where the entire article is read out to audiences with a "Listen" voice button. Furthermore, Voice search is one of the most emerging e-commerce trends for shopping online from smartphones. It is, however, applicable to all businesses on the internet. If you want your business web app discovered by all aged audiences, enhance it as early as possible for voice search. Implementing voice search will provide you with an additional loyal audience and generate sales.
3, WebAssembly
Because of JavaScript restrictions, heavy calculations are slow on websites, affecting the user experience. Because of this, the majority of popular games and powerful applications are only available as native desktop apps. WebAssembly is here to shake things up. This new structure aims to provide web apps with native-like performance. WebAssembly compiles code in any programming language into bytecode that gets to run in a browser. WebAssembly code executes faster than JavaScript. As a result, you can compose the app's performance-critical parts in the appropriate language. WebAssembly will then handle the browser execution. Native apps launched directly in the browser allow users with comparable web performance.
4, Accelerated Mobile Pages (AMP)
Google emphasizes mobile web apps that load quickly. Implementing Accelerated Mobile Pages (AMP) is the trending technology that reduces web page load time. An accelerated mobile page (AMP) only works for static content, but it loads faster than standard HTML. An AMP eliminates all unnecessary elements and displays only the essential information — text, images etc. This strategy is ideal for bloggers and news publishers.
5, Motion UI
One of the major web design trends is motion design. Moreover, The minimalistic design combined with intelligent interactions is appealing to users. Consider transitions in page headers, nice hovers, animated charts, background animations, and modular scrolling. Furthermore, These and other elements will assist you in displaying your distinct style and appeal to the user's attention. Improved UI and UX factors assist the web app in ranking higher in search results.
6, Micro frontends
Multiple teams can work on various frontend components and bring them together in one web app development. This technology is now called micro frontends. Code refactoring and web upgrades become easy with the assistance of micro frontends. Any component of the frontend can be rewritten independently by a web developer without affecting functionality or the overall UI. Moreover, Micro frontends open up the possibility of working with multiple autonomous teams to build the app faster: each engineering group has its scope of work and deploys components independently.
Custom Web Development Services in India with Trending Web Technologies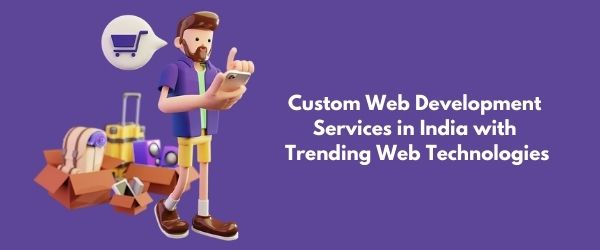 1, Angular Web Development
Angular is the latest web technology created for dynamic web services. Furthermore, the Angular framework allows developers to develop front-end-based applications without additional frameworks or plugins. Businesses looking for robust innovation can use Angular excellent web development framework. Angular's features include well-designed templates, MVC architecture, code generation, code splitting etc.
2, Ruby on Rails Web Development
Ruby on Rails is a server-side website technology that simplifies and accelerates app development. The reusability of the code, as well as a few other features, set this framework apart.
It also works with the MVC architecture. With capabilities such as ORM, Middleware, Security, Coaching, and so on. Ruby on Rails is your go-to application development toolkit. Furthermore, it is possibly the first web development framework that focuses on the developer's user experience.
3, YII web development
Yii is an open-source web application development framework based on PHP5. It is performance-optimized and includes many useful tools for debugging and app testing. Another advantage is that it is straightforward to use. Web developers prefer the Yii framework because of its performance and security.
4, Django web development
Django was a very well Python framework with an MVC architecture. Because of its simplicity, it makes the app development process easy. Django simplifies Python usage and delivers a plethora of features that make the life of a web app developer easier, such as an ORM, Models, Django admin, templates, and so on. Django is a large-enterprise-grade development framework that supports MTV architecture. Django has a fast development cycle and is fully compatible with Python. A website development company will use it when the frequency of any web development process is critical.
5, Meteor JS web development
Meteor JS is written in Node.js and allows for more efficient development of real-time web applications. The page loading time because this is an open-source isomorphic JavaScript web framework. Meteor JS is a web development framework for creating simple websites. The JavaScript stack also allows you to achieve the same results with fewer lines of code than usual.
6, Drupal web development
Drupal is an open web content management system written in PHP licensed under the GNU General Public License. At least 14% of the top 10,000 websites use Drupal as their backend platform. The key features that promote the use of this framework among website development companies are its flexibility, dependability, security, and highly scalable features.
7, Laravel web development
Laravel is an excellent tool for both small websites and large-scale B2B web businesses that process millions of transactions each day. Object-oriented libraries, MVC support, Artisan, authorization technique, database migration, and other features make Laravel more implementable. It is currently one of the most widely supported and developed frameworks.
The Laravel framework enables rapid web development. This end-to-end development framework includes features like middleware, ORM, session management etc. Furthermore, web developers can use it to create high-performance web applications.
8, React.js web development
React.js is a web development framework that has grown in popularity as a client-side framework based on JavaScript. React has become a popular web development technique for enterprises and developers globally for its features. React.js is also used to create web, mobile, desktop, and smart TV apps, and it offers superior server-side rendering and SEO support. Furthermore, React.js is a groundbreaking framework feature that includes one-way data binding and declarative programming.
9, Vue.js web development
Vue.js combines AngularJS (as the View Layer) and React.js features (Virtual DOM). The current version of Vue.js supports external data flow and state management, similar to Angular, and provides end-to-end application development. Vue.js provides high-quality documentation for JavaScript-based frontend development. Vue.js is possibly the best web development framework for developing progressive web apps. Many web development companies use Vue.js for SEO, overall performance, and faster development.
10, Node.js web development
Node.js is a complete environment, not just a framework. It aids in the development of scalable and fast web applications by handling multiple concurrent connections with high performance.
11, Core ASP.NET web development
Microsoft's ASP.NET Core includes some of the most recent features. The main features of ASP.NET are enterprise-grade frameworks that support MVC architecture, allowing for the development of flexible and mature applications that can run on multiple platforms such as Windows, Linux, and macOS. ASP.NET is ideal for large-scale enterprises developing complex applications.
12, Spring web application
Spring is the best framework for making Java a relevant platform for cloud computing. The enterprise-grade framework includes a server-side rendering component. Among Springs' many features are dependency injection and annotations. In addition, the Spring web framework allows you to create cloud-native web applications, batch processing, and event-driven applications. Spring framework used for large-scale application development. The framework includes everything needed for application development, such as advanced security, multiple data sources, and cloud deployment.
13, Express.js web development
Express.js is a model-view-controller (MVC) web framework that runs on the server. Furthermore, website development firms use express.js because of its highly mature, stable performance. With the MVC pattern and the View layer, Express.js enables end-to-end application development. Middleware, routing, and templating are all supported.
14, Tensorflow web applications
Tensorflow is an open-source platform framework for developing AI applications. Simple to use, open-source, and backed by a large community. Furthermore, website development firms that want to create AI applications use Tensorflow.
15, CodeIgniter web development
Codeigniter is a PHP framework designed for developers who require a simple and elegant toolkit for developing full-featured web applications.
The advantages of using Codeigniter are faster websites with less effort. Cross-site scripting (XSS), SQL injection attacks, and clickjacking are among the security features available in Codeigniter. Codeigniter allows you to easily reuse components and libraries across projects to create large, scale-able applications.
16, CakePHP web development
CakePHP is a PHP-based open-source web development framework. Furthermore, CakePHP's documentation and practical guides make coding a breeze. CakePHP practice enables professionals to create web applications systematically and efficiently. Using this framework also allows you to write less code for development. CakePHP framework can be reuse code from previous projects, which expedites the development of CakePHP web applications.
17, WooCommerce web development
WooCommerce is an open-source WordPress e-commerce platform. Moreover, WooCommerce enables eCommerce websites to advance to changing demands and inventory.
18, Magento web development
Magento is an open-source e-commerce platform written in PHP. It employs many other PHP frameworks in addition to Laminas and Symfony. A custom Magento E-commerce website has hundreds of unique features. Furthermore, using Magento's online features, businesses can connect with their customers and sell their products.
Custom Web Development Security Service Trends in India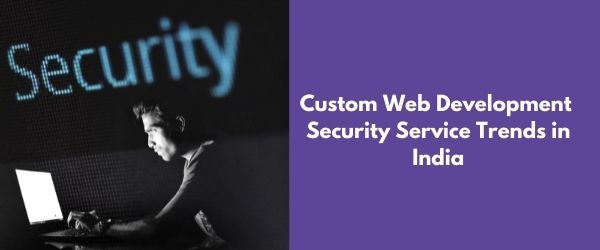 Custom web security should become a top priority as this can cause harm to your brand website's reputation and cost you a lot. Several web development security trends are emerging with rising cyber security issues.
1, Security Testing
Security testing during the web development stages can prevent data leakage or data corruption. Each change in the web app explicitly tested prevents security problems. Quality software testers can identify bugs and perform security penetration tests for further security loopholes.
2, Web Security Monitoring Tools
A security monitoring algorithm can constantly monitor all requests, detecting and classifying suspicious activity. A timely notification allows your team to respond quickly and protect the web app.
3, Data encryption
Keep your web app data safe with encrypted codes. Even if the offender gets to your database, they could not extract any encrypted sensitive data.
4, AI-powered security software
AI-powered security software makes it easier to detect threats and malicious activity. Large corporations are now training their AI systems to analyze network behaviour patterns and respond immediately to suspicious activity.
5, Blockchain for Cybersecurity
Unlike centralized databases, blockchains store data in multiple locations or authorities. Each user is responsible for the data verification, and changes cannot implement unless everyone agrees. NASA implemented blockchain technology to protect data and prevent cyber attacks on their services. Furthermore, Highly confidential and security needed website/web apps data secured with blockchain technology are more secure. Blockchain technology is trending and widely used to secure web platforms in the banking, finance, and government sectors.
6, Protected DNS
DDoS attacks cause havoc on large corporations. However, there is a solution: complete DNS decentralization. Content distributed in various nodes becomes difficult for an attacker to locate and exploit sensitive points while also attacking your domain.
7, Managed Website Security Services
Choose third-party managed website security service providers that monitor and take the burden of website security from cyber attacks. Furthermore, Managed website security service providers can implement high-level security measures, security configuration, penetration tests, data backups, encryption etc., and secure web data.
Benefits of Custom Web Development Services in India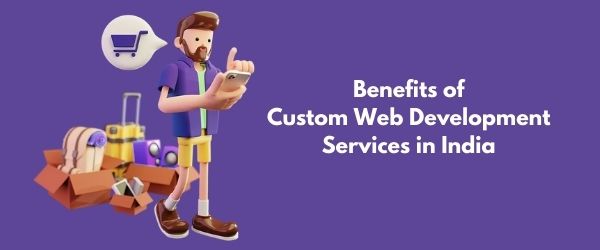 Further optimization for better user experience
Create a unique and creative brand identity among competitors
Website design tailored to branding
Adaptable to evolving business needs
Performance-oriented development
Scalable to upgrade for future business requirements
User-friendly customization of designs, navigations, and web features
Flexibility to adapt to emerging technologies
Further, Improved security practices with rising cyber attacks
Compatibility in various device platforms and browsers
Better web hosting practices to mitigate downtime
Custom user appealing designing
Improve website loading speed to reduce bounce rate
Implement Mobile-friendly website practices
Better stability, consistency and integrity of web platforms
Further, Improved user engagement and conversions
Further, Improved navigations with the minimum number of steps
Easy to maintain, upgrade or make changes with custom website admin panels
Highly efficient web development
Faster project delivery
Further Improvement in quality of web development
Reasonable cost for web development
What are the Various Phases of Custom Web Development in India?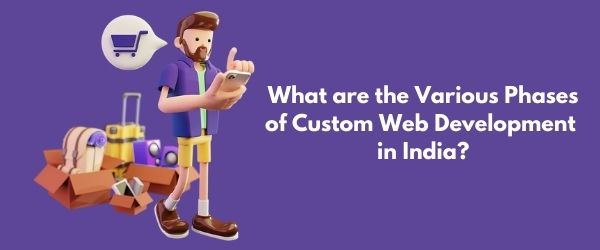 Data collection of requirements and needs
Research and analysis
Custom web development
Website testing
Website hosting or Launch
What are the Various Web Services provided by a Custom Web Development Company in India?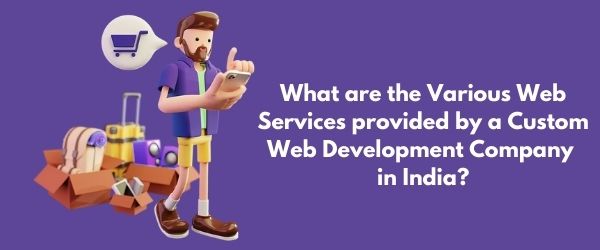 Suitable web domain purchase
Website logo design
Web design (UI/UX design)
Web development
Website testing
Web hosting
Website maintenance
Website Revamp or redesign
Web domain renewal services
Banner or graphic design for websites
Website server configuration and maintenance
Website migrations
SEO services
Website admin panel design, development and configurations
Web application design and development
Further website security implementation services (SSL Certification)
Ecommerce website design and development with payment gateway implementations
What are the various business industry where custom web development services can be implemented?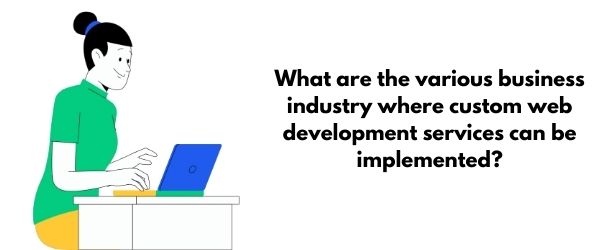 IT, computer and software business custom website development
Healthcare, hospital or further clinic custom website development
Banking or further financial custom website development
Online educational or further tutoring custom website development
Private and public company custom website development
Business startup custom website development
Conference registration or further event custom website development
Online shopping or further home delivery business custom website development
Job consultancy or further recruitment agency custom website development
Charity or further donation custom website development
Hotel or further resorts custom website development
Construction and architecture custom website development
Sports or further fitness custom website development
Consumer electronics or further home appliance store custom website development
Online appointment custom website development
Food, catering or further beverages business custom website development
Export and import business custom website development
Automobile accessories or further booking custom website development
Online pharmacy custom website development
Video calling or further communication media custom website development
Online book store or further library custom website development
Fashion and beauty business custom website development
Celebrity custom website development
Boutique and further clothing business custom website development
Ayurveda custom website development
B2B ecommerce custom website development
Photography custom website development
Online grocery custom website development
Supermarkets or further hypermarkets custom website development
Online gaming business custom website development
Online streaming or further movie business custom website development
Personal blogging or further article custom website development
Tourism or further travels custom website development
Multivendor ecommerce custom website development
Logistics or further transportation custom website development
Furthermore, all types of business shops custom website development
Furthermore, all types of companies and industries custom website development
Why Codewills for Best Custom Web Development Services in India?
Codewills is the best custom website development company in India that provides custom web development services for all scales of businesses. Furthermore, High-performance and web features of their custom websites have triggered to gain better reputation value among other competitors. As a reputed Custom web development firm in India, Codewills has attained satisfactory consumers across the globe. Moreover, the team of talented, skilled and experienced web designers and web developers ensures to deliver as per expectations within the time allotted.

Highly Talented Web Developers
Team of web developers have the right technical expertise required to build a website that offers a unique and engaging experience to customers.
Search Engine Optimized Websites
Design and develop search engine friendly websites that are indexed easily and quickly by all the search engines.
Cost-Effective
Highly reliable website development services to clients across the globe at a truly affordable price range.
Most Modern Technologies
Make use of the latest state-of-art technologies to build highly optimized and feature-rich websites for your business.
Time-bound Projects
Offer time-bound website development services in which developers get the work done within the specified time.
Clean Coding Practice
Follow clean coding practices by which Codewills make sure to writes codes that are easy to understand, change, and are bug-free.
Custom Web Development Services Cost, Price in India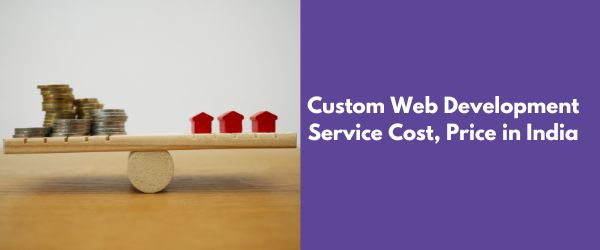 Make your business brand recognized with revolutionary and affordable custom website development services
Starting From ₹24990 per project that includes
Web pages Layout Design and development
Performance Optimization
Basic SEO
Codewills also provides web application development services, mobile app development services and the best digital marketing services boosting business growth. By evaluating the website needs for business growth, custom web features and functionalities offered by Codewills.
Contact us at https://www.codewills.com/contact-us